Rawicz Crystal Pet Palaces with quilted interior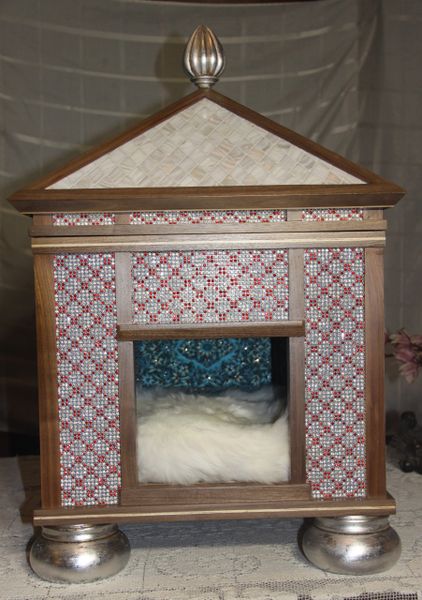 Rawicz Crystal Pet Palaces with quilted interior
The Rawicz Crystal Pet Palaces are stunning works of art created by a jeweler and a European master craftsman who trained over 40 years ago in historical restoration and design and manufacturing of architectural woodwork, custom cabinetry and furniture. These indoor pet palaces are hand-made from over 40,000 Swarovski crystals, solid exotic woods and veneers. They are one-of-a-kind, signed, numbered and dated, intended for the smallest of human companions (comfortable for pets up to 18 pounds) such as Chihuahuas, Papillons, Pomeranians, Toy Poodles, Yorkshire Terriers, Dachshunds, and other small canine breeds that would enjoy a nap in this gorgeous work of art.
The roof of this pet palace is made from tiny mother of pearl rhombus tiles, edged in exotic wood. Its external walls are covered with approximately 40,000 Swarovski red and white crystals also edged in exotic wood. Exotic wood is also used to frame the two windows and entry way. Interior walls, floor and pitched ceiling are covered with black quilted fabric. The feet and finial tip are silver leafed. The roof of this pet palace opens for ease of cleaning. The back wall of this pet palace has a handmade, special order jeweled Zardozi carpet. It has approximately 18 inches wide and 18 inches deep interior space, reaching up to approximately 25 inches at the tip of its pitched roof. A sheep skin pillow with an organic, aroma therapeutic lavender insert is added for comfort.
If you have an interest in this particular pet palace, please indicate your preference in Swarovski crystal color and color of quilted material to be used for the interior. Also advise if you would like changes to the color of the external exotic wood frame color. Any other changes and/or requests are welcomed.
Production time for this pet palace is approximately four weeks. Delivery time of this product will depend on time required to secure the selected materials as well as any other previously ordered products in the artist's work queue.